Although we don't visit every show sometimes it happens. And when I am on the show I'm looking, comparing and sharing my opinions with others. You can find here my completely subjective opinions about.
04.06.2011/05.06.2011 International dog shows - Grand Prix Slovakia/Derby Winner Show Nitra

Prologue
Dog shows in Nitra are always fine - nice environment, enough place and mostly very good judges. This year Irish and Norwich were in the same ring so I entered both Mia and Erin. To judges, Ms. Kirsi Sainio, Finland/Mr. Stefan Sinko, Slovenia, I had good references so I "wasted money" for both shows.

As usually - when you are looking forward to something - the things start to go wrong. Problem 1: because hard overload of work in last month, there was not enough time to groom both monsters properly (thanks Zuzana Erin was more-less OK but Mia looked like homeless) and to take sufficient portion of trekking (that means Mia was fat and Erin's muscles looked very poor) and last 3 days can't be enough to repair all damages. Than I recognized that only few friends entered to shows - for me quite tragedy. The weather started to be extremly hot and it's not good for shows. So - problems, problems and problems...
Day 1 - Waterloo
Nice day, very hot weather, quite small number of dogs. We came quite early and I tried to make wonder with Mia (with little help of our friends Barbara and Adriana). the work of Ms. judge was very thorough - that means time consuming. The temperature in hall went to extreme and I tried to find some joy for my poor monsters - mostly they played with many dogs and sometimes they slept in the crate. I enjoyed very powerful Irish team from Poland - in last years their Irish really improved. Finally Irish came in the ring.

Males - Intermediate class:
Mack The Knife Machagony (by Am.Ch. Gloccomara Polemicist) - well developed Irish, elegant head, long neck, dark red coat, lot of substance (for me little bit cobby), perfect front, correct tail set; I would wish him better top line and hind angulation. V1, CAC, res.CACIB

Males - Champion class:
Wiliam Wallace Tavari: in excellent conformance, much better than year ago. Full of temperament, perfectly handled. I especially appreciate that his owner Mr.Neubauer, did not use any help with grooming and handling as last year; he did it himself and the result was excellent V1, CAC, CACIB, Grand Prix Winner, BOB

Females - Intermediate class:
Brandy Ullo Kokkino (by MM Jack Daniels) - very similar to Mack The Knife. The same pros the same cons. I enjoyed her female expression and perfect temperament V2, res.CAC, res.CACIB

Nana Machagony (by Baystone Fire Flash) simply excellent dog. Although she has maybe more substance than other 2 polish dogs she is well balanced so the result is perfect. Only the expression should be more female, but it's really detail V1, CAC, CACIB, Grand Prix Winner

Upgrade v.Koudenhoven - comparing with other dogs she looked like a puppy. Less substance, not so dark red coat (only red
). But she is well balanced (comparable with Willam and Nana) she moved well , and was good in static as well(hard tas for such temperament monster to survive the time when judge finshed the report
VG 3

I was quite disappointed with Very good but the rest I accepted. I know the Irish scene in Scandinavia so I know the rule "more red is better" as well as early developed Irish with fantastic muscles. So I understand. Looking to the report I mostly agreed with the judge: ..(+) good size, well balanced, nice head, correct bite, excellent neck and shoulder, well carried tail, correct movement, nice irish terrier; (-) female in development, needs more substance, chest needs to develop but in some points I did not understand: eye should be smaller (?), low earset (??) too big ears (???)

But the most confusing point came in Norwich: Mia was quite tired, her coat didn't look perfectly and in the movement she showed her famous "seal" style. Summary: in open class she got "good" with quite strange report. Some points I accept: coat in bad condition, lose elbows, carries too much weight (politically correct verbs for "fat dog"
, some good points were also mentioned correct bite, excellent shoulder, correct angulation, excellent tailset, but some points were like from other dog: small head, incorrect skull, big round eyes, too big ears. Fortunately Mia has more positive reports from expert english judges so I stayed calm. Simply our opinions on Norwich are different. For me quite expensive experience but such is life.
Day 2: Satisfaction

We tried to do our best to prepare for Sunday. During the Saturday evening I groomed Mia with quite good result; we spent some hours walking in parks and woods; in the evening came rain so it was not so hot. Sunday morning we also went to long walking. Although to show we came quite late we had to wait longer than day before so I had enough time for everything. Unfortunately nobody of our friends was there - I don't remember such show - and I must say, such show is nothing for me. I had enough time to look at the judge Brigita Kremser, Slovenia. First I was disappointed when she changed Mr.Sinko but during the time I more and more appreciated her style - quick and exact.
After all sheepdogs and other breeds Irish terriers finally came to the ring:

Males - Junior class: Flit z Hodejovickych strani (by MM Copyright) - very young strong dog, Perfect temperament. Too tired, didn't want to walk V1 (no titles)

Females - Intermediate class: Upgrade v.Koudenhoven - moved better than day before V1, CAC, CACIB, BOB

Report was brief and exact, I agree with any word: looks very young, needs to develop. Excellent typical head, nice expression, quite loose elbows, correct angulation, moves well.

Another surprise came in Norwich: Mia got V1, CAC,CACIB. Report: female expression, excellent head, typical topline, loose elbows, should be less fat :


Epilogue
Two hot days spent on nice shows. Two different days, down and up, two absolutely different approaches. Conclusion for us: titles are fine but we have to stop shows for some time, Erin must finish the development and Mia must run more and reduce weigt (not only for shows but for the planed litter as well). We have to work hard - not all judges are so generous as Mrs. Kremser
01.05.2011 National Dog Show Banska Bystrica
I like this outdoor show althoug the experience always depends on the weather. This year there was rainy; maybe 20 different types of rain from almost invisible drizzle to quite heavy shower. Rings became wet and dogs didn't want to move. Number of umbrellas, tents and pavilions grew around rings and the show landscape looked like holliday camp.
Although both our dog were entered, we decided to show only Mia because Erin was not in good coat. Nevertheless I was curious to see Irish competition more than Norwich.
Irish were judged by Mr.Bucko (SK). 4 dogs entered, 3 present. Results:
Males open: Uelis Blade Devill V1, CAC, BOB - Jerry in perfect conformance, perfect coat, well handled. Judge appreciated all these points.
Females Junior: Annie Saint Devills V1 - young female in development (needs stronger back, more temperament); perfect ear set (judge didn't want to believe it was not glued) short but quality coat. Moved OK. No titles
Females Open: Fragola Lemone Ponny Express V1 - nice head and body, moved better than usually, coat groomed too early, white hair visible. No titles.
I was very satisfied to see the judge's integrity. Although Mr.Bucko is known by often unsearchable verdicts in B.Bystrica he showed clear opinion with no exceptions. I was sorry that Erin was not in good coat because this day I'd like to show her to this judge.
Norwich terriers: there were 3 dogs in the ring: Mia, her sister Corvette and young dog from Revlis kennel. Mia obtained V1 in Open class. We lost the title because of missing tooth. Well, when on FCI show the dogs are juged by local club requirements instead of FCI standard it is a bit strange but when Corvette lost in BOB competition aginst the dog with nice head but faulty back and not temperament I was quite sad.
The best at the end: our kerry blue friend Bhelliom Extra Guiness won the Best Veteran in Show competition. Our congratulations.
18.03. 2011 Special Terrier Show Vinicne
Although this year unusually on Friday 12 irish terriers were entered. We decided not to enter Erin because Mr. Szalai as a Irish Terrier judge is completely unknown to me. Only Mia was .entered (7 norwich terriers).
From 12 entered Irish Terriers 11 was presented with following results:
Junior Male:
Irish Pub Ponny Express V1, CAJC - nice proportional dog, Elegant, interesting size
Number One of Hunterriers VD - I don't know why but judges don't like this dog
Open Male:
Kleo vd.Emsmuehle V1, CAC, CC, Danubian Winner - in very good conformance but you can't change the angulation...
Uelis Blad Devil V2, res.CAC - I supposed he will win the class
Working Male:
Asan z Dulickej Farmy V1 - standard hunting terrier - no extra faults, no extra good points.
Junior Female:
Anora Alex Saint Devills V1, CAJC
Annie Saint Devills V2
Litter sisters, both elegant, nice heads, quality coat.
Working Female:
Heriette z Perslu V1, CAC, CC, - in standard conformance, quite short coat handled well
Dina Irish z Uplazu VD - quite shock for me, I have seen only few such ugly dogs, very good was simply too good for her
Champion female:
Xisisi Tavari V1, CAC, CC, Danubian Winner, BOB - as a fresh "IRISH TERRIER of the YEAR 2010" she had no problem to win.
Veteran Female:
Tina Turner Tavari V1, Best Veteran, later 2.place in Best Veteran in Show
Interesting points in show: maybe only Irish Pub Ponny Express, for me nice surprise. All the rest quite standard: a bit underestimated Hunterrier, a bit overestimated Kleo and the common problem how to judge hunting terriers.
Norwich Terriers:
Mia was in standard conformance, she was better than "TOP NORWICH TERRIER 2010" and got V1, CAC, CC in Open Class. In Danubian Winner competition she lost against later BIS.
22.11.2010
Slovak Terrier Club Show - 19.11.2010
Terrier Club Show was the part of autumn International dog show in Nitra for years but because this show grew to duo-CACIB show (2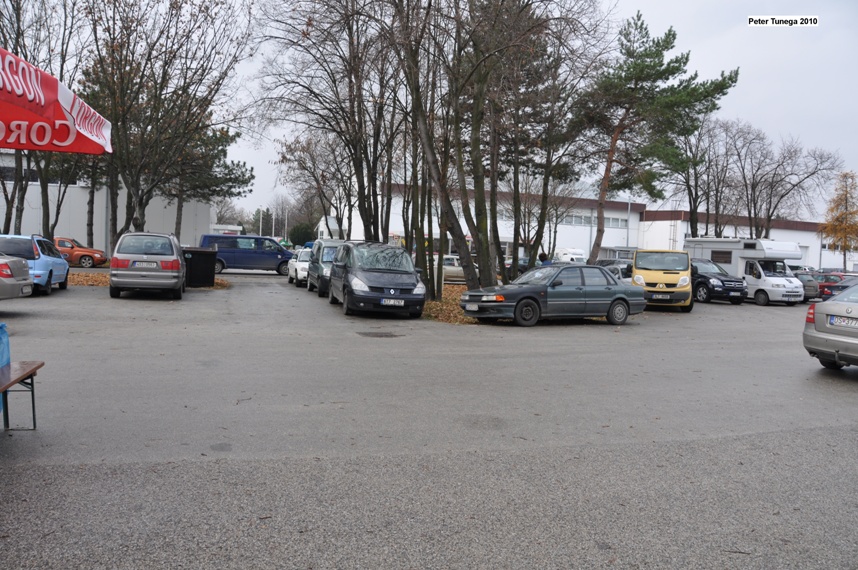 CACIB in 1 weekend
) the Club show has to shift to Friday. This fact has partially negative influence on the number of entered terriers, on the other side Slovak Terrier club celebrates 20th Anniversary so Club Show was more prestigious than usually. Known foreign judges were invited (e.g. Mrs. Swieton and Supronowicz from PL, Mr. Korosz from HU, Mr. Gilmour and Westwood from UK) so interesting number of 456 terriers were on place.
Irish Terriers (12 entries, 11 presented) judged by known experienced judge M.Swieton and English judge A. Westwood judging Norwich Terriers (16 entries) were suitable motivation for Barber Street crew to attend so both Erin and Mia were entered. Because of really high entry fees on CACIB shows we decided not to enter.
Day D brought quite rainy weather but all other things were OK. Large rings in the hall, carpets, a lot of visitors and photographers - good show can start. Mia's "mum" Zuzana came to groom and show our little monster, Erin was in much better mood than on last shows, we also have "private" photographer Peter - everything what we can wish. Show started later than usually so we had enough time to test both dogs in the ring, especially our youngster.
Than we spend some time with trimming of both dogs (especially Mia was not happy) and to socialize them.
Finally the show started. In our "Irish" ring Mrs. Swieton judged very quickly so Irish were in the ring very soon. Here is the report:
Males/baby class
1 dog
Number One of Hunterriers by known show cracker Darren vd.Emsmuehle. Quite big and heavy for 7 months, otherwise with no visible faults – very promising 1
2 dogs
Henki Penki Ponny Express – son of Gloccomara Polemicist – correct, perfectly groomed but for me absolutely boring dog, for Mrs. Judge better one excellent 1, CAJC, Junior Club Winner
Honky Tonk Ponny Express litter brother of previous – for me better one, not in the best coat, but better tail set, head and expression, better mover, but - surprisingly very good 2 …because he was too heavy…
Males Intermediate class
1 dog
Uelis Blade Devill – "Jerry" was in longer coat, prepared for winter in mountain and wild swine hunting presented fine, - excellent 1, CAC, CC
Males Open class
2 dogs
Cleo vd.Emsmuehle – in better conformation, moved better than usually although his wrong ears and strange hind angulation is hard to hide. Quite nervous, tried to bite his competitors more times. For me surprisingly excellent 1 , CAC, CC, Club Winner, later disqualified
Uelis Alex - in standard conformance and show performance, moved well, in all points better than competitor but excellent 2, Res.CAC
Males Champion class
1 dog
William Wallace Tavari - standard performance, looked a bit soft in the back and less motivated, otherwise fine - excellent 1, CAC, CC, Club Winner
2 dogs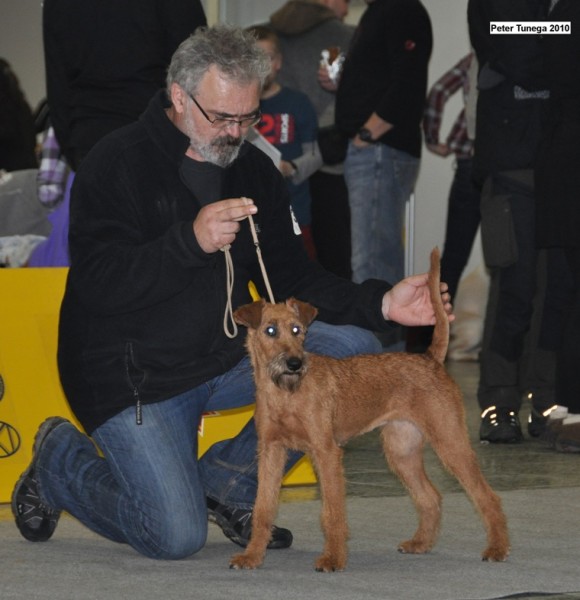 Anora Alex Saint Devills – 9 months young female, good conformance, nice head/expression, good coat, needs more show experience (especially in the movement) -very good 2
Upgrade v.Koudenhoven – Erin was in the ring sure and satisfied, she showed her good points, we need more training in the movement – excellent 1
Quite funny situation because Mrs.judge was not able to explain her verdict to ring staff so in 5 minutes Erin was excellent 1, CAJC, Club winner and Anora excellent 2, than both very good, and finally excellent 1 and very good 2. For us no problem but very good for Anora was IMHO too cruel, especially when the owners have no show experience.
Females Working class
1 dog
Heriette z Perslu – in standard conformance – excellent 1, CAC,CC
Females Champion class
1 dog
Pride Uelis v.Koudenhoven – Bessy in excellent conformance, without problem excellent 1, CAC, CC, Club Winner, BOB
Quite bizarre situation occurred when Irish ran for BOB – Cleo was trying to attack the competitors more times (like in Open class) and Mrs.judge disqualified him. I really don't know why (when she found him aggressive, she had to do it in Open class). I experienced much "worse" situations on many shows and all these conflicts between Irish were not judged as the aggressiveness but the sign of Irish temperament. For the motivated owner a bit tragedy, for me the final evidence of judge's inconsistence this day.
Conclusion: There was no bad Irish in the ring, The criteria of Mrs.judge were hard to recognize (Type? Movement? Angulation? Coat? Substance? - for me - and others - the real mystery) Surprising, because Mrs. Swieton is experienced and valuated judge. Maybe bad day. I really don't know.
22.08.2010
21.-22.08.2010 International Dog Shows Duodanube Bratislava
This show moved after some years from Incheba to Race track in Bratislava - when the weather is OK, the outdoor show is better. This year it was more less OK, little bit too hot but there is no reason to complain.
Known international judges were advertised (Mr. O'Brien and Mr.Deutscher) so we decided to enter Erin to both days. After the 1st entry close the situation changed - the known names vanished (later I obtained the info that thery were not asked to judge there) and Slovak judges Mr.Kanas and Mr.Seman were nominated.
The number of entered Irish was quite low - 5 on Saturday (4 present) and 4 on Sunday. I think the change of judges was the primary reason of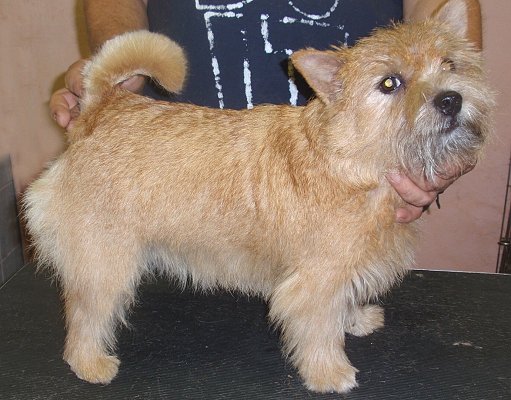 this low number.
Saturday 21.08.2010
Junior males:
Ares z Dulickej farmy (Cliff z Hodejovskych strani x Daisy Weiten z Uplazu) - strong young dog quite no experience with shows - very good 1
Hoplala Pony Express - absent
Champion males:
Wiliam Wallace Tavari - in very good conformance - excellent 1, CAC, CACIB, BOB
Junior females:
Upgrade v.Koudenhoven - not in the best mood, looked tired, no show spirit - very good 1
Champion females:
Xisisi Tavari - as usually really good - excellent 1, CAC, CACIB
Sunday 22.08.2010
Champion males:
Wiliam Wallace Tavari - in very good conformance - excellent 1, CAC, CACIB, BOB
Uelis Alex - not worse, it was really on judge's decision excellent 2, resCAC, resCACIB
Junior females:
Upgrade v.Koudenhoven - not in the best mood, but showed more temperament excellent 1
Champion females:
Pride Uelis v.Koudenhoven - really good, in longer coat than usually - excellent 1, CAC, CACIB
Some notes: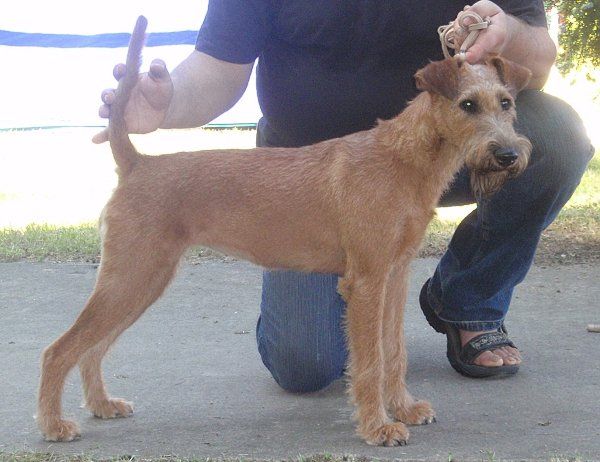 Note 1: Our Erin
To be honest Erin was not in the best mood on this show. Partially influenced by handler (I was really disappointed by change of judges), few days after she finished first heat, less than week after we lost Basia... quite a lot of issues. Anyway she didn't show her great temperament nor show spirit. I trust it was only because of circumstances... OK we will try next time... and when she will not show the show spirit, we have a lot of another activities to be happy together...
Note 2: Judgement
When I read the reports it's not so bad:
Saturday, mr.Kanas:
young female, correct type, excellent head, a bit bigger ear, dark eye, propotional neck, should have deper chest and more substance, angulation not stable but correct, coat not in ideal show condition, fluent movement, lack of temperament
Sunday, Mr.Seman
elegant young female, excellent backbone, long narrow head, correct ears, long neck, typical upper line, excellent angulation and movement, potentially soft coat.
I think there are some good points mentioned so I am OK with it. I especially appreciate the approach of Mr.Seman to young dogs - I think he really likes dogs and understands them.
Pictures: Andrea Skrzekova, Readog
5.6.-6.6.2010 International Show - Grand Prix Slovakia - Nitra
We visited this show because of the judge - Mrs.Cartledge, GB. This famous judge is known as a real terrier specialist, so we were looking forward to see her in action.
There was 12 dogs entered, 11 in the ring (Spitfire v.Koudenhoven was not there becuse some problems with his owner's car). We were waiting quite a long time - Mrs.Cartledge was very precise in judgement of previous terrier breeds. Finally Irish started.
junior-males: one dog Hoplala Ponny Express (by Gloccomara Polemicist) - 9 month old, elegant, racy, dark red, good conformance and showmanship V1,CAJC, Junior Winner Grand Prix
intermediate-males: Uelis Blade Devill (Jerry) - when compare with spring shows Jerry was more powerful, in perfect coat but had a bit problem to move on the glib floor. Also his performance in static was no so perfect as usually. V1 (no title). When I was reading the report, I recognized 2 points important for the judge: dog must move well and must be racy. Jerry didn't move best this day and was maybe more poweful than Mrs. Cartledge likes. OK.
Open-males: Kleo vd.Emsmuehle - V2. Although his movement improved in last months, it's quite far from the optimal movement, so the placement was OK for me.
Spitfire v.Koudenhoven - not present. Quite a pitty for all of us, we were quite curious.
Uelis Alex - V1,CAC, res.CACIB. Mischo was in great condition, moved well. According to judges criteria best in class and also better than his competitor in "res.CACIB".
Champion-males: Mr. Irishman of the Hunterriers - V2, res.CAC. This dog presents so called "early beauty" - as a young dog he was very elegant and balanced,with the age he has more substance than necessary and less elegance.Moves well.
William Wallace Tavari - V1, CAC,CACIB,BOB - not so "eye-catching" dog but well balanced, well moving and probably most harmonic Irish in the ring. He presents in "natural" way - not very interesting for most judges but delightful for experts.
Intermediate-females: Herriette z Perslu - V1, CAC - this nice bitch improved her performance and moves well.
Xisisi Tavari - V2, res.CAC - well prepared, little bit without fire
Open-females: Fragola Lemone Ponny Express - V2, res.CAC - fine bitch, this day moved well, coat also more-less OK, unfortunately Bessy was simply better.
Pride Uelis v.Koudenhoven - V1, CAC,CACIB - in perfect form, best bitch in the ring. To be best of breed she had to show more temperament.
Champion-females: Red Trixi Ailish - V1, CAC, res.CACIB - hungarian bitch, quite large frame, but ballanced. Moved OK.
Conclusion:
When understanding the judge's preferences I was able to predict all verdicts with 100% success (after intermediate males class
). What does it mean: (1) I understand Irish Terriers
(2) really consistent work of Mrs.Cartledge. OK my preferences are little bit different (e.g. res.CACIB in females) but it's not important. For me the work of Mrs.Cartledge was like virtuose symphony - clear opinion, right preferences (based on standard, not on feelings) applied without any exception. Many thanks for it.
02.05.2010 National Dog Show Banska Bystrica
I like this outdoor show on nice place, especially when the weather is fine. So I decided to visit this show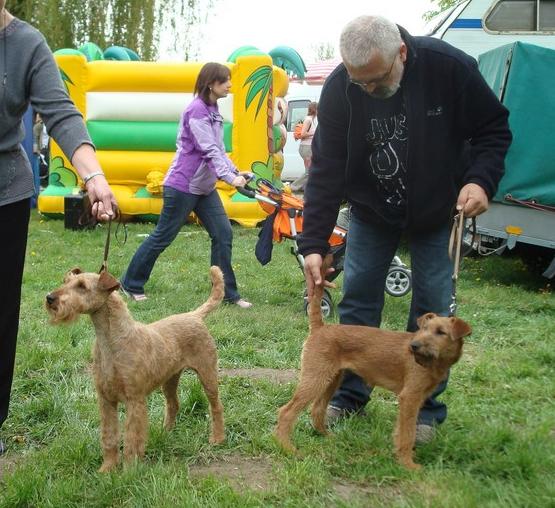 with Erin - not to show her only to "sniff" the atmosphere and collect some experience. The weather was fine - so we enjoyed the time spent on show. Erin was very surprised by number of dogs which can play with her and the dogs which wanted to fight
. Both categories were very interesting for her so she played with many dogs from yorkshire terrier to irish wolfhound and enjoyed it very much. She didn't fight with any dog - of course we avoided it - but she showed the true daredevil temperament.
In the ring there were 4 irish terriers presented:
young dogs:
Henki Penki Ponny Express
- son of Am.Ch. Gloccomara Polemicist showed all strong and weak points of american lines: nice head and neck line, wire red coat, but quite too strong (cobby) for this age (let's s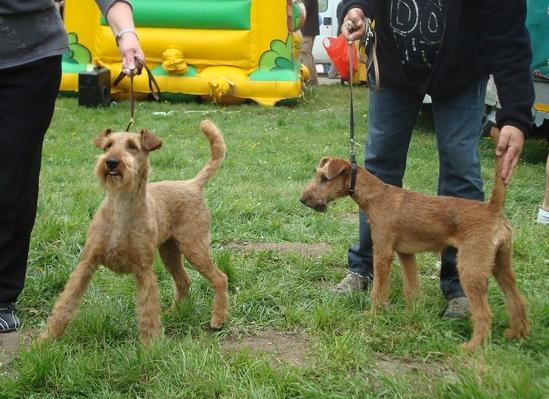 ee how he will develop) -
very promissing
open dogs:
Uelis Alex - Mischo was in very good coat, little bit too heavy, but moving perfectly - V1, CAC, BOB
open bitches:
Pride Uelis v.Koudenhoven - although in worse coat than in Vinicne, her performance was - as usually - excellent. After long decision of judge - V1, CAC, BOS
Fragola Lemone Ponny Express - in best condition AFAIK, perfect coat, moved well. Really hard competitor for Bessy - V2, resCAC.
Judge: Mr. Stanovsky, SK. IMHO his decisions were correct. I was quite surprised when reading the reports of Mischo and Bessy, especially Misco's "...quadratic body typical for Irish Terrier..." sounds for me like really bad joke.
After the show we tried to take pictures of Bessy and Erin (the current and future Koudenhoven generation in Slovak rings
) but Bessy decided to attack Erin so on pictures Bessy looks excited and Erin quite frustrated. No worry - next time it will be better...
photo: Brano Polak
28.03.2010 TERRIER CLUB SPECIAL SHOW VINICNE - Irish Terriers
Some words to Slovak Terrier Club Special Show (today in Vinicne, judge Mrs. Marsalova, CZ, experienced breeder of more short-legged terrier breeds):
1. really big number of entered Irish (13 entered, 13 present)
2. quite lot of "hunting" Irish on show. Unfortunately they mostly brought no quality, in some cases I had a problem to recognize Irish Terriers in them
3. inconsistent work of Mrs. judge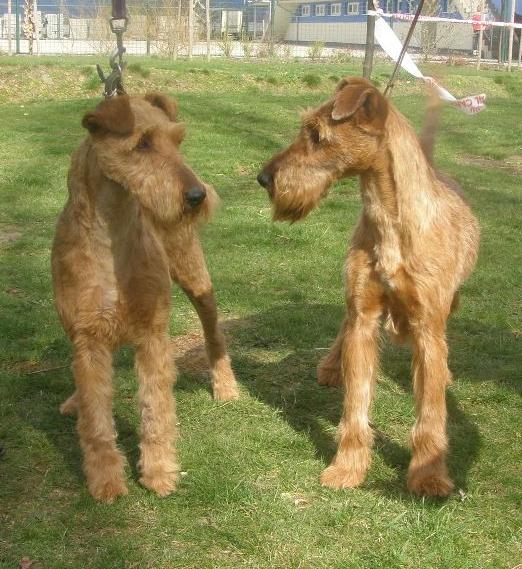 Some notes to results:
Dogs - Young: Henky Penky Ponny Express - very promissing.
Dogs-Junior: 2 dogs - one "hunter" Brix Gorovec (very good) and Uelis Blade Devill (Jerry). Jerry won the class, later also BOS
Dogs- Intermediate: only 1 dog, Kleo vd.Emsmuehle - unfortunately the kennel name doesn't make the quality - Kleo has no Irish expression but has some serious faults on body (back, hind angulation...) But Mrs. judge has respect to known kennel names, so excellent.
Dogs - open: 2 dogs, Glen Z Perslu, and Uelis Alex (Mischo). Glen was quite surprise for me - not worse than other hunters but such flegmatic dog I've never seen (suppose it is the result of "excellent" training of the idiot owner) - good. Mischo - really good performance, excellent handling - but very good !!!! Explanation: wrong ears (!!!) gay tail (!!!) so Mrs. judge has very good imagination :-(
Bitches - Junior: another "hunter" from kennel Gorovec - Bea - (very good) - no fire, no joy
Bitches - Intermediate: 3 nice bitches: Fragola Lemon Ponny Express - nice but no substance (excellent 1), Heriette z Perslu - nice conformance, quality coat/colour, perfect mover (excellent 2), Xantina Tavari - very athletic "hunter" with nice conformance and cute expression but worse handling (excellent 3). Unfortunately Mrs.judge prefers bad coat and lack of substance.
Bitches - open: another Gorovec - Arka (very good) - more self confident (because of clever owner) but wrong conformance and coat - hard to recognize if it is irish or not. Than Pride Uelis v.Koudenhoven (Bessy) - perfect condition, longer coat but prefectly groomed, excellent handling (excellend, later BOB)
Bitches - working:
Xisisi Tavari
- perfect condition but the handling was disaster (excellent)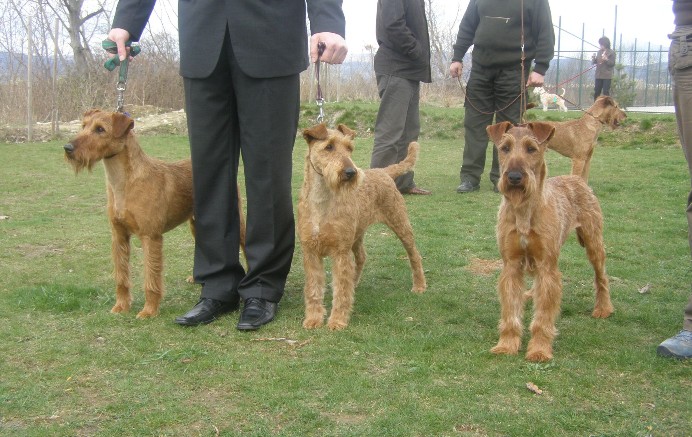 Conclusion:
- most of Irish owned by hunters show lack of temperament and also serious faults (exception: Tavari). But when they get the same "very good" as the dog with many titles from experienced judges, someting is wrong - the owners don't recognize that they own something similar to Irish but no real Irish - they will continue to breed on such dogs and downgrade the breed in the name of hunting abilities. The responsibility on such mismatch goes partially to Mrs.judge :-(
- the type (and standard as such) says nothing to Mrs. judge.
So I think that to invite Mrs.Marsalova to judge irish terriers on Special Show was pure waste of money.
Anyway: my congratulation to Brano Polak and Ms. Zajacova - Bessy and Jerry were at the moment the best and fortunately Mrs.judge was able to recognize it. Hallelujah!
From left: Mischo (VG), Bessy (Ex.1, BOB), Jerry (Ex.1,BOS)
photo: Brano Polak
14.12.2009 DUO CACIB NITRA - Irish Terriers
Short look on 2 CACIB shows in Nitra (5.-6. December): there were 10 Irish on Saturday and 7 on Sunday in the ring. Complete results you can find e.g. on
Uelis
web site.
The number of Irish is interesting as well as the winners:
Saturday (judge: Mr.Kanas, SK) males: What a Moment The Best Colour - CACIB, BOB, Baystone Fire Flash - resCACIB; females: Baystone Celtic Fire - CACIB, Pride Uelis van Koudenhoven - resCACIB.
Sunday (judge Mr. Seman, SK) males: Baystone Fire Flash - CACIB, BOB; females: Fragola Lemone Ponny Express - CACIB.
All the winners are nice Irish and I congratulate them. The only problem I see is the inconsistence in the judgement in both cases. I try to explain: both Baystone's are the same type, quite different from the type represented by What the Moment, Pride Uelis or Fragola Lemone. Judge can prefer this or that type but when the winner in males is different type than winner in females (although in both cases there were another quality dogs of the same type in place) it shows lack of knowledge or opinion.
09.10.2009 WORLD DOG SHOW BRATISLAVA - Irish Terriers
Although we had our own norwich dog in the ring, to see Irish Terriers was equally important for me. 55 entered Irish and expert judge Bojan Matakovic promissed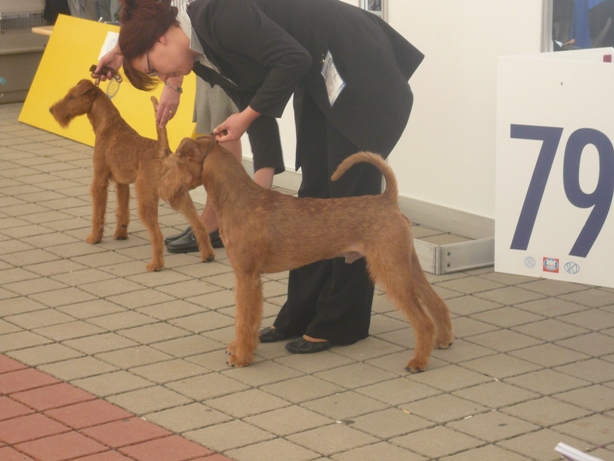 big show. And it was really true.
I know Bojan's work for years so I was quite curious how he will make it out. The task was really difficult - as usually in Irish there were more types there, and more known breeder/kennel names were also in place, so I was really looking forward to the judgement. What will win - the expertise or the pressure of big names?
The judge showed real expertise at least in following points:
- in all classes he quickly and correctly chose the dogs which had no quality for World Show and didn't waste time with them. Maybe cruel for somebody but the owners have to recognize that titles from local shows/bad judges don't guarantee the quality.
- all winners were of the same type: OK we can discuss what type is better but the judge who chose one type in one class and another type in another class doesn't understand irish or has not his (her) own opinion. It's not the case of Bojan.
To particular classes and winners: the complete results you can find on the World Show web page (
www.worlddogshow2009.com
) so I'll publish only some remarks (completely subjective, off course):
junior class males
: there was the choice between typical and well moving, but really big hungarian and eye-catching but quite short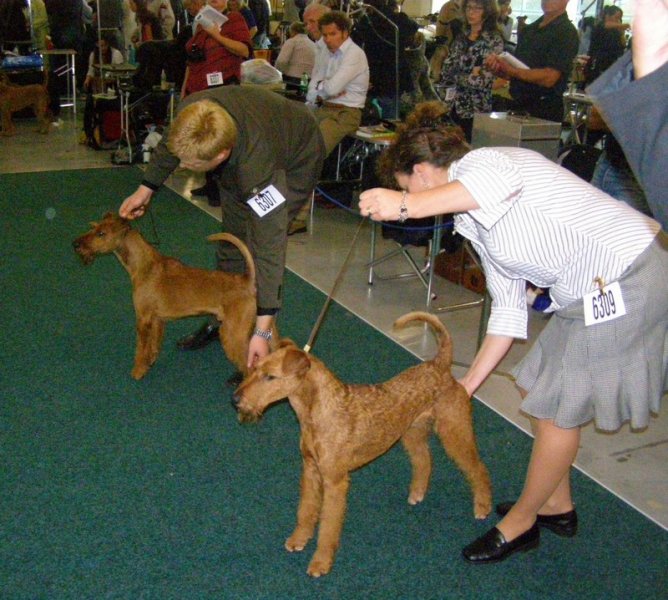 swedish/american junior (the other dogs were quite behind). Unlike day before (Interra) the son of Oberon was the winner. For me right decision.
open class males: decision was between Horatio vd.Emsmuehle and Spitfire v.Koudenhoven: both similar in type, Horatio more concentrated, Spitfire with no doubts the best mover from all entered Irish but on the start quite nervous and angry. The win of Horatio was not surprising for me - I can understand judges reasons - but in this point I have not seen the expertise.
champion class males: decision between Darren vd.Emsmuehle, top winner in last 3 years, and MacRua's Famous Footsteps was one of easier, because the second is also not the best mover in the world :-)
CACIB: the only possible decision, maybe Res.CACIB was quite illogical for me (because it was really not type preferred by judge)
all classes of females:
I didn't find the the dog I like. (my favourite Pride
Uelis
was absolutely without the fire, so I fully agree with V4, Xisisi also remembers better days). In some classes it was the decision between bad and worse but I think every time the decision was right. I have the same problem with Res.CACIB as in males.
BOB:
the only logical decsion
again
Looking to the results,I see following interesting facts:
- absence of most sucessful kennel in last decade - MerryMac. I don't know the reason so I can't comment why but I trust it will be not forever.
- the imposing return of Emsmuehle kennel to footlights. Two World Winners (although not owned directly by family Gruttner) and two Junior World Winners sired by their import Oberon. I think such presentation of the kennel is more valuable than any plate in the case in Gudensberg. My congratulation to this great success.
- really professional work of the judge. Well done Bojan, my congratulation as well.
P
ictures in the article are published with kind permission of Brano Polak
09.10.2009 WORLD DOG SHOW BRATISLAVA - Norwich Terriers
Day D is here - early in the morning Mia's "mum" Zuzana came and after short breakfast we can go. We are here at 8:30 so we have a lot of time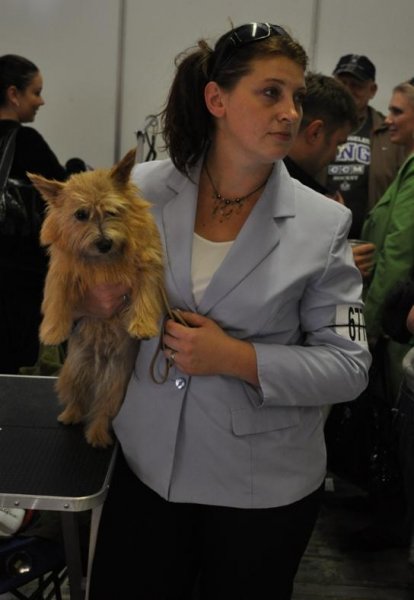 to prepare Mia (which doesn't like it so she is trying
to escape
from the table) and have a closer look to Irish terriers (described in separate report). Than we moved to another hall and wait and wait and wait...
Finally Norwich terriers started. We appreciate excellent work of the judge Mr.Pichard from Switzerland (I know I had no good words for 'allrounders" but in this case I failed... ). We are quite surprised - there is no bad dog in the ring. OK some dogs I liked more and some less but the monsters with titles absented. We agreed that most interesting for us was
dog from Sweden
although he didn't win any title.
We decided that Zuzana will show Mia. I was quite afraid what will happen - and I was surprised. Mia was very showy and self confident - like
experienced professional
. Judge appreciated her harmony, expression... OK, everything looks fine. But when Mia has to walk the disaster came. Although normally excellent mover, she looked like Anja Paersson winning World Cup downhill - something between
badger
and seal - so the chance for good placement was far away.
In any case I am proud on her excellent rating and I like her show report: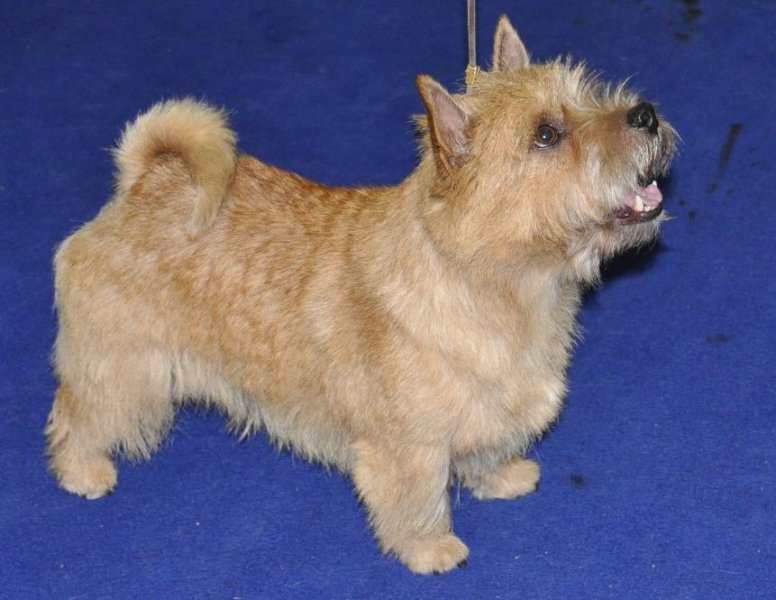 Very harmonic 2 years old female, typical expression, correct ear set, excellent neck and shoulder, harmonic body structure, qulity coat, excellent tail set, quite loose elbows, should move more parallel.
So we have
quality norwich
comparable with the best on this show. For the working dog like Mia it's better than we every expected. Many thanks to Zuzana for expert handling (of course except of walk :-) but it's hard to handle seal :-). Not decided yet but maybe Mia's show career will continue...
All pictures used in the article: Peter Tunega