Irish Terrier is one of most empathic dog breeds. When you are sad he is sad as well, when you are joyful, he is joyful as well. This mostly perfect but when you are very sad, you sometimes need antidepressant. The best one is Norwich Terrier.
I enjoyed these temperament merry dogs for years on dog shows but I didn't think about owning such dog. The Norwich breeders were not too communicative at all, the breed was rare, no puppies available.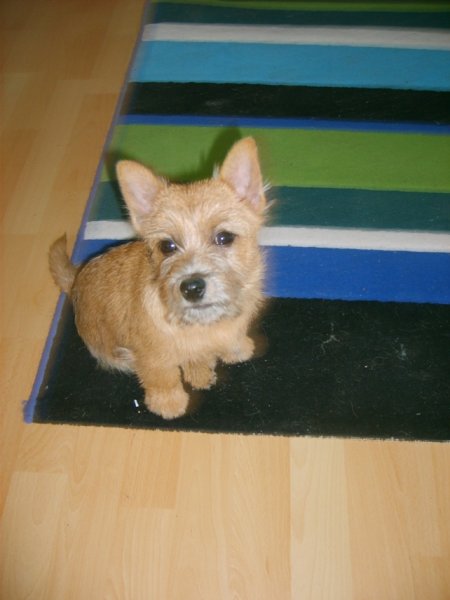 One day our friend Zuzana Ciganikova (Bhelliom) got Norwich bitch from Poland (Psia Parafia) and started to breed. She was successful: almost all dogs from first 2 litters were real show crackers. Sometimes I helped to handle them and I liked it. Some years later the other friend Zuzana Kotrhova (Stack's) started to breed Norwich as well.
In march 2007 I was asked if I want to have Norwich puppy. I was thinking about the companion for Basia so I agreed. We went to Trencin and brought Bhelliom Campari Stack's (Asterix Bywalk du Pre de la Croix Verte x Bhelliom Apricot Brandy), aka Mia (or Mrs. Mia Wallace from Pulp Fiction).
Mia is typical Norwich terrier. Very intelligent, always able to arrange some mischief, always trying to catch your eye and say: "..look I am here and I am the most sweet puppy in the world..."
Quite successful on dog shows (her first attempt resulted BIS-puppy on International Show), perfect trekking dog - she is able to walk with us 20 or more km without tiredness regardless how difficult the landscape is. We get tired and she is hunting mice... Because Norwich is not typical trekking dog, we are very careful but I trust next year she will be able to go long distance trek (100km in 2 days). But it is not the rule - she must enjoy it.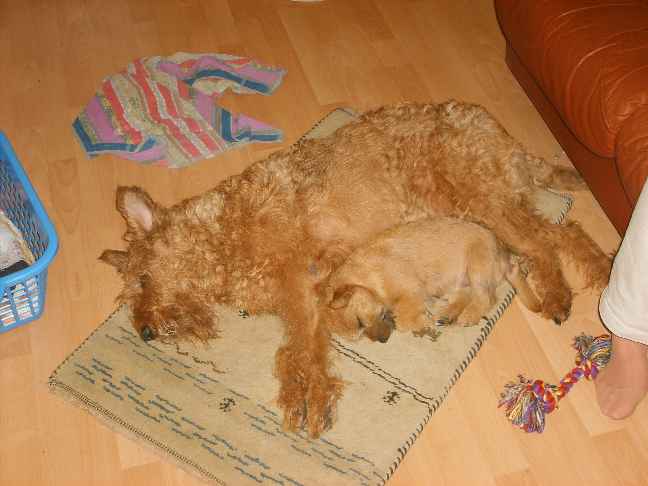 Mia is perfect companion to 14 years old Basia. She is always trying to play with her - sometimes she is successful, sometimes not - but anyway it is useful for both of them. When we are walking Basia is acting as a guard for her rude friend. And when Basia is loosing the meaning of life Mia is always trying to activate her.
Irish Terriers in our family are aware to keep rules, Norwich Terriers were made to break all possible rules. But it's not easy to punish Norwich - they have natural talent to look like complete idiot which is not able to understand what's going on. So Irish and
Mia
have different rules.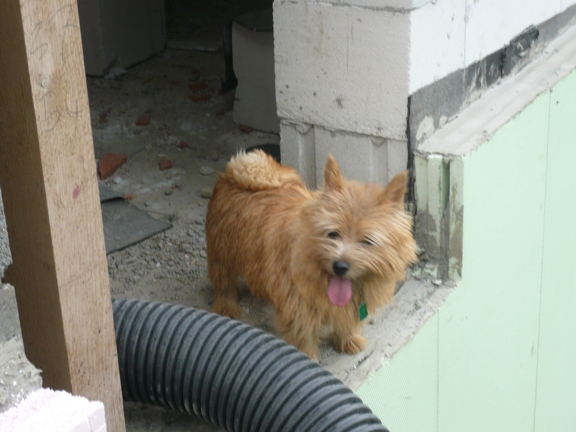 But Irish don't complain and I simply must forgive the stupid small Norwich because it's able to cheer you up when you are very sad, to go with you miles nad miles although her legs are short, and when necessary, to do anything to make you happy (e.g. to inspect the buildingworks on our new house house, see right picture).
Irish will be always my number ONE but I am very thankful to both Zuzana's for this valuable NORWICH experience. I trust more Norwich will come soon.