As time is going many outstanding Irish Terriers which impressed me and gave me the imagionation about new diredtions in breeding are going to the Rainbow Bridge. Let me mention some of them:
Rick - Cedric von Ansveruskreuz (1997 - 2011)
first IT import of BarberStreet kennel. Although Rick's mission was to be the companion of our friends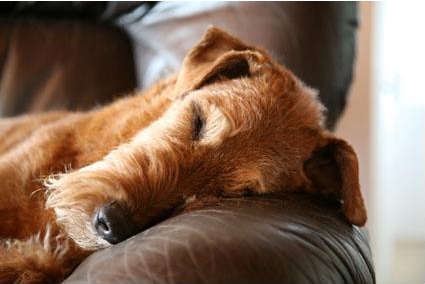 family Lichvar, his unique pedigree (especially Tralee's Hurricane Kid and old Pathfinders behind) gave him the good chance to be used as a stud. Rick grew to extraordinary Irish - he was very nice dog in terms of conformance and character. Because he was the dog with greatest show spirit I ever handled, shows were delight for both of us. Rick became Junior Champion of Slovakia, Champion Slovakia, Derby winner etc. He won many CACIB and BOB titles. Later he became the sire of many Champion Irish (e.g. Deny, Deryk, Dayen z Perslu, Uelis and Uther Tavari etc.) . As a sire he was 100% reliable and his "children" usually have his great temperament: self-confident, calm dog, but true devill when necessary.
Rick left in age of 14 years. We can be sad that he left but I am glad he was here.
Photo: Maria Lichvarova
Basia - Borah Ariva. (1995 - 2010)
BarberStreet23 first Irish Terrier. Our most important dog, Although she came to our family more- less by the chance she became true family member very soon. Quite successful on shows (Junior Club Winner CZ, Club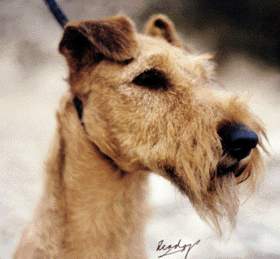 Winner SK, Veteran Champion SK,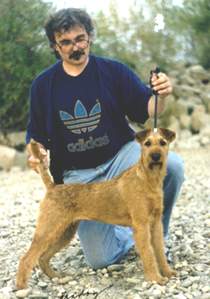 multiple BIS Veteran), excellent trekking dog (e.g. West Tatra, Velka Fatra, Mala Fatra, etc. etc.). Mother of

BarberStreet23

"E" litter.
Basia was near to ideal in expression and conformance, although in show rings she was a bit underestimated. But her temperamet (from refined lady to true daredevill, depending on circumstances) and especially her empathy were most impressive. She was true family dog and the best friend of our 3 children.
Photo: Andrea Skrzekova - Readog
Cassidy z Perslu
. (1998 - 2010) One of the most valuable stud dog in our countries with significant influence in Europe. For me very special dog - I was in Germany with the breeder to mate Bona, I was with him when he became the Junior Europe Winner - generally I spent quite a lot of time with him and we were good friends. Cassidy was the sire of our "E" litter.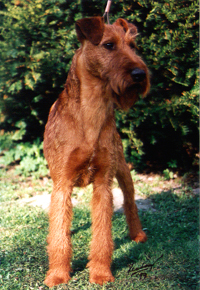 Although his dark red coat was quite strange for some czech breeders for me (and many others) Cassidy was the example of typical Irish male in expression, conformance and temperament.
Cassidy died in age of 12 years as a respected leader of "z Perslu" irish terier gang.
Photo: Andrea Skržeková - READOG
Carl - MerryMac Don't Blame Me
. (1994 -2010) This extraordinary dog was the first Megastar of MerryMac kennel. Multiple World Winner, successful sire of many champions in Europe as well as in USA.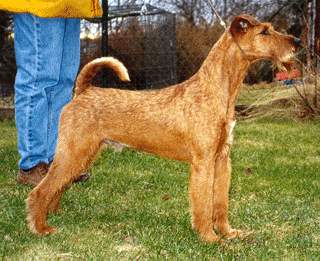 Carl was in my eyes near to ideal Irish Terrier: excellent conformance and expression, extraordinary movement and typical irish character (and also "gay" tail which made some conservative judges mad). He was one of dogs which changed my view on Irish.
Carl died almost 16 years old
Photo: Archive Anne D.Schans