As you can read in "History" the Irish terrier breeding in Czechoslovakia had good and bad periods. Here I am trying to map the most important steps from 90's till now. This overview is subjective, of course.
Early 90's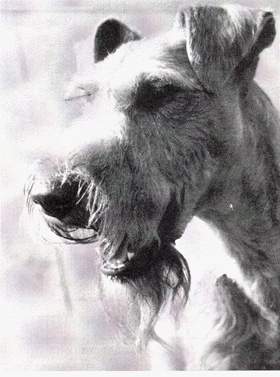 After some stagnation the early 90's are characterized by progressive approach to breeding. This was probably started by Zbynek Kubik (kennel "Fiery Lucifer") who has international experiece with Border terriers and was enthusiastic enough to find quality stud dogs in Germany: he used Irish Champion Gatecrasher (owned by Mrs.Braeckow, "Capella") and brought new blood to kennels "Ariva" (Eminence Lucifer) and "Florex" (Envoy Lucifer). Later he continued by using Garry and Angelo v.d.Lichtenheide (both sons of "Maghill of Ben'sHeir") but without the significant influence on breed.
Another enthusiast was Josef Pavlica ("Florex", later "Zlaty Florex") who closely co-operated with german kennel "v.d.Lichtenheide" and used two times "Garry vd.Lichtenheide" and brought 2 important bitches: Aida Florex (owned by him) and Bona Florex (owned by "Z Perslu" )
Third progressive breeder was Mrs.Vojtiskova "Ariva": she used Superstar Capella (pure Esperons line) which resulted Archie and Airut Ariva, than Angelo vd.Lichtenheide - resulted Borah and Banja Ariva, and finally Maghill of Ben'sHeir - Celtic Ariva.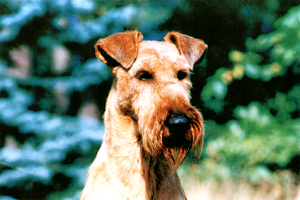 "Avalanche effect" so typical for Czech breeding resulted usege of popular german sires in more CZ kennels but without significant influence on the breed.
The usage of "irish lines" had very positive influence on the quality on Czech breeding - Aida and Bona Florex were successful not only in our region but on Euro Irish Trohy 1997 (Germany) they won in competition about 100 Irish terriers from Germany and other european countries.
On the other side, together with quality irish stud dogs also "irish purist" opinions were imported - only "irish" Irish are good, americans are different breed and mix between "irish" and "americans" are simply mongrels. These opinions were partially reaction on the loss of german hegemony on big shows (MerryMac started to win in 1993), partially the influence of old irish breeders. In fact some potential health problems were ignored (cystinuria, corny-feet, pick-out) and because some of most used "irish" sires were carriers, the "purist" position represented the time bomb. But there was not the right time to recognize it.
Late 90's
In late 90's there were two significant directions in Irish breeding in CZ and SK - the purist line was continuing and the usage of american/MerryMac lines started.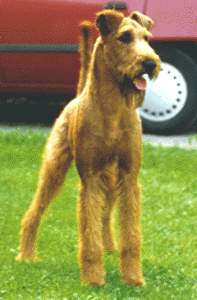 Vera Srsnova (Z Perslu) used MerryMac Good Looking - and the result was e.g. Cassidy z Perslu. Josef Pavlica (Zlaty Florex) imported MerryMac Lollapaloosa. BarberStreet 23 imported Cedric von Answeruskreuz - grand son of Tralee's Hurricane Kid. All these dogs had big influence in the breed.
Although MM Lollapaloosa (aka Byron, left picture ) died by car accident very soon and sired only two litters - one in Germany (L-litter "Rufus") and one in CZ (E-litter "Zlaty Florex") his sons Rufus Look at Me (aka Byron II, MM Lollapaloosa x Rufus Magic Polestar) and Edmund Zlaty Florex (aka Teddy, MM Lollapaloosa x Aida Florex) had the big influence in DE as well as in CZ. Both of them sired more than 60 puppies and many of them became champions. Both of them were typical by perfect irish character - self-confident but not aggressive - as well as nice conformance.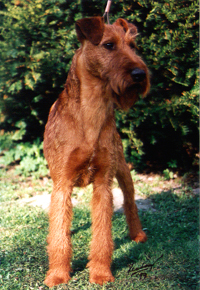 Cassidy z Perslu (MM Good Looking x Bona Florex, picture right) had very similar influence like Edmund. He sired aldo more than 60 puppies and gave nice conformance and perfect character.
Both Cassidy and Edmund made CZ Irish breeding very popular in Europe.
Influence of Cedric v.Ansveruskreuz (Prins Paljan v.Koudenhoven x Amy v.Ansveruskreuz) was not so visible in the first moment. Excellent showman mated best CZ bitches Aida and Bona Florex (D-litter "Z Perslu" and F litter "Zlaty Florex") with good results, especially in Bona's case. Deryk and Dayen became CZ Champions and were important in the breeding, Denny was exported to Netherlands (also Dutch Champion) and he started the interest of Dutch breeders in our Irish. Later Cedric sired 2 litters in SK kennel "Tavari" (ICH Dina z Katkinej Zahrady, ICH Tina Turner Tavari) and his offspring Uther and Uelis became SK Champions as well, Uther also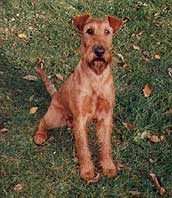 ICH, Austrian Champion and so on...
Purist line used dogs from Emsmuehle (Wiscount, Percy Stuart) and Capella (Gatsby, Autumn Gift) as well as the dogs form croatian kennel "Best Colour" (based on german sires). The results were mostly very good. Let's mention kennel "Z Piseckych Lesu" (Mrs. Kminkova), or Tavari (Mrs. Cwiecekova) and their champions Aris, Aira z Piseckych lesu and Sparring Partner Tavari.
The diversity of both directions was fine at the end - it was not pleasant to hear and read all these stories about "mongrels" but the result was perfect genetic diversity in CZ and SK breeding - and less problems in the future. CZ and SK started to be respected on the international field.
New century
The liberalization of the opinions on Irish Terriers is typical for the new century. American and MerryMac irish were no more problem and they were widely used in important european kennels. Easy to write it - this road was very long and mazy. But the details are no more important after the years.
To describe the MerryMac show success and their influence in many european kennels is like carry coal to Newcastle
. MM influence in CZ and SK was based on
Edmund, Cassidy
and his brother
Conti
- almost all active kennels have carry their blood. Some sons of MM dogs were successfuly used as well, e.g.
Byron II
in kennel
"Barakohar", Tomas Slavik
, or
Over the Top The Best Colour
(by
MM Right to the Top
) in kennel
"Ponny Express" Monika Uhlikova.
Josef Pavlica
almost stopped the breeding but he imported the american dog
Artemis Paladin
, aka
Ritchie
. Although not super show dog,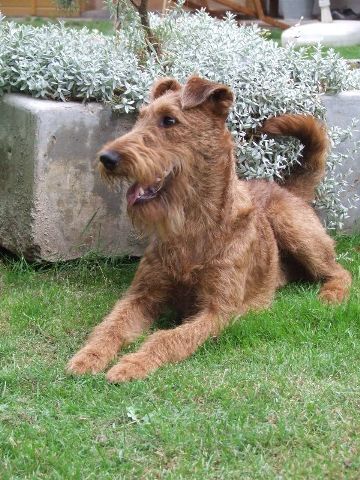 Ritchie sired interesting litters in "
Gaia Moravia
" (
Mrs.Slavikova
), "
Z Perslu
" and "
Tavari
" kennels. Especially
Gaia Moravia
and
Give z Perslu
, as well as
Xisisi Tavari
look wery promissing.
Another interesting direction is german kennel
Kells
.
The owner
, Kelly Wamsler,
American living in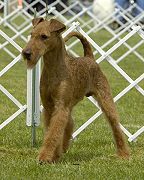 Germany, brought more quality dogs to Europe (especially
Kells Tulsa Twister
). This dog was used in many kennels, in Slovakia we have his son
What a Moment the Best Colour
(kennel
Ponny Express
). His influence is not known at the moment but the positive influence is supposed.
The usage of MerryMac and pure american lines looks like the sure way to the success. On the other site, the loss of old irish bloodlines, represented e.g. by offspring of Viscount vd.Emsmuehle, could be irretrievable loss. More german kennels are going this way and they have followings in our coutries too (e.g. Barakohar usage of Red Rabbits Elliot in the same way as A.D.Schans in Germany).
To combine our lines with known american lines is not the sure way to success so the usage of oldie-goldie Am.Ch. Gloccomara Polemicist in kennel Ponny Express is remarkable activity. This dog can bring more substance to the line, so when the right type will be used for future breeding, these Irish could be valuable in the future.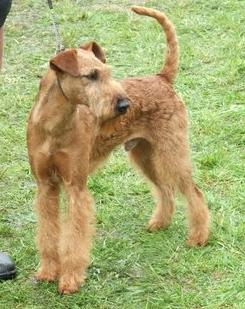 Interesting direction is also the close co-operation with Netherland/North Germany irish scene (with many interesting bloodlines in the background). Our most important dogs at the mom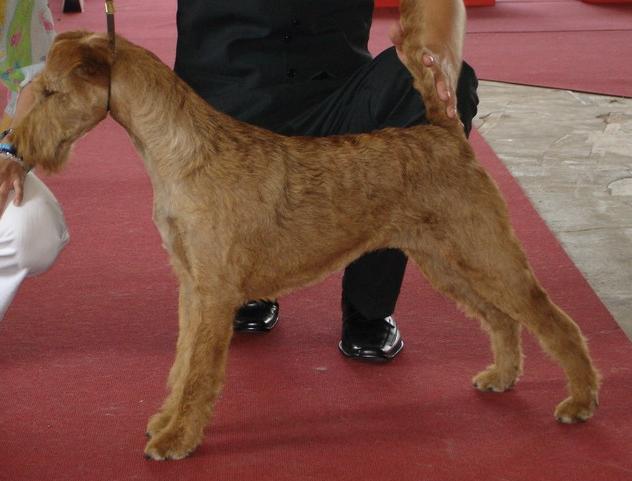 ent come from this co-operation. First,
Pride Uelis van Koudenhoven
, European Junior Winner 2007 is carrying the blood of
Byron II
and old netherland lines - and it works perfectly. Second,
Spitfire van Koudenhoven
, is carrying the same bloodlines (but by
Edmund
from father's side) and the result is similar. Of course this quality must be confirmed, so we are looking forward to the offspring of both ("B" litter Uelis by Uelis Alex with some promissing puppies, "I" litter Z Perslu and some other litters in CZ, see website "Z Perslu") . Surprises are possible but we trust in improved quality in this litters. Third, Upgrade v.Koudenhoven, is only promissing puppy at the moment, but she carries the best bloodlines of CZ and NL dogs today.
Another way could be the usage of old Czech and Slovak (so called "hunting" lines). Because the usage of Irish Terrier in hunting is very typical for Czech and Slovak environment some kennels prefer hunting abilities instead of show performance. In this case they preserve old bloodlines for future usage. Unfortunately "hunting" breeders started to "surf" on the wave of popular "non-hunting" sires, mostly with sad results, so to find the valuable dog in this population will be hard. But not impossible I trust.