BarberStreet 23 is obscure slovak Irish terrier kennel with large international contacts. Irish terriers are more part of our living than the subject of intensive breeding. On the other side the history and development of this amazing breed isour important hobby for last 15 years. And we like our Irish Terrier friends worldwide - because they are very similar to dogs they breed - active, open-minded, rough to the enemies and meek to the friends.
How it started
Irish Terriers are in our family since 1995. I had some dogs before but when I got married we were not able to find the common understanding regarding to dogs. But during the time our children wanted the puppy more and more. We developed excellent tactics: we visited every year the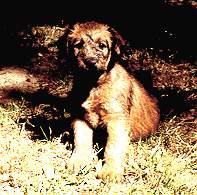 International Dog Show in Bratislava, we always choose some rare breed, took some pictures with our children and than were sooo sorry because no puppies were available. This tactics was successful for 2-3 years but ... in 1995 we choose Irish Terrier and "unfortunately" there was one puppy available. It was in Prague but "unfortunately" I went there to business trip next day. It was really hard decision, but when I saw Basia, all doubts were far away... Basia, or "
Borah Ariva"
came to us. We were never sorry for this decision.
Because Basia developed into nice Irish Terrier, we visited some shows (sometimes we won sometimes we lost) and we started to think about the potential offspring. In 1996 we registered "BarberStreet 23" kennel and there was no obstaceles to breed.
Breeders philosophy
Basia's breeder,
Mrs.Vojtiskova
, was most influenced person in our decision. She was fixed on "real irish" lines, presented in that time by german kennels "
von der Emsmuehle
", "
Capella
", "
von der Lichtenheide
" and some others. I liked their excellent dogs and I was looking forward to use some of them for breeding (btw . Basia was also the "irish aristocrat" with known irish champions like "
Maghill
" and "
Gatecrasher
" in pedigree). But the plans were changed by the chance: discussing on Internet mailing group, I met
A.D.Schans
(kennel "
Rufus
") and she invited me to visit her and her Irish Terriers. Because I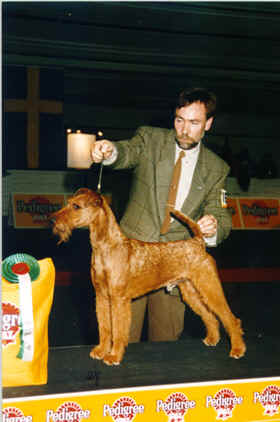 planed the trip to Germany, I did it. And this visit completely changed my view on Irish Terriers. Dorle explained me some potential problems in IT breeding (in 1996 it sounded like false alarm but some years later it came true) and showed me her way out. The way was: american lines, better said balanced mix between american and irish lines -
MerryMac
Irish Terriers. I was enrapted by "
Magic" (Tralee's Hurricane Kid),
"
Tuck" (Tralee's Design for MerryMac), "Carl" (MerryMac Don't Blame Me)
and other MerryMac dogs. Direction was changed.
Co-operation started but not the breeding

Unfortunatelly there were no optimal conditions for puppies in "
BarberStreet 23
" kennel. To test my new ideas I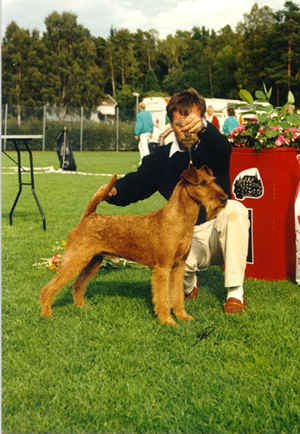 argued the owners of two important Czech kennels:
Vera Srsnova
("Z Perslu")
and
Josef Pavlica ("Zlaty Florex
"). Thanks the co-operation with Dorle "
MerryMac Good Looking
" aka "
Gato
" mated Vera's famous "
Bona Florex
" (resulting "
Cassidy, Colette, Conti and Cassia z Perslu
") and we arranged the import of "
MerryMac Lollapaloosa
" (litterbrother of
MM Legacy, Limmerick, Legend for Fardarrigh and Leading Lady Again
) to kennel "
Zlaty Florex
".
Lollapaloosa
, aka "
Byron
" unfortunately died soon and left only two litters - "L"
Rufus
(
Rufus Look on me
) and "E"
Zlaty Florex
(
Edmund Zlaty Florex
). Both Byron sons were excellent stud dogs with numerous champion offspring.
For our own purposes (and for my friends family Lichvar) we imported Cedric von Ansveruskreuz, son of Dutch Champion Prins Paljan v.Koudenhoven and grandson of "Magic". He is valuable showdog as well as a sire. From this point my friendship with Peter Jaspers ("van Koudenhoven") started.
Finally breeding
The problems with Basia continued. Although we were 2 times in Germany and used reliable stud dogs and we tried also Byron and Cedric, we never got the puppies. Finally in 1999 Cassidy was successful and we got the materialization of our ideas: BarberStreet 23 Exactly Cassin (Aero). He fulfilled all our dreams regarding shows (although his "gay" tail was hated by many Czech judges) as well as outdoor activities (dog-trekking). He combined elegance, performance and nice character. In 2002, because of serious problems in our family, we have to solve bitter dilemma: only one Irish should stay at home. We decided to keep 7-years old Basia and we found nice new home for Aero: he lives in Austria as a companion of Dr.Stenner and his wife. He is no more show dog but as a companion he is extremly useful.
Time-out
We were taking care about Aero's daughter Maggie - we handled her to Slovak Champion and hoped for some offspring. Unfortunately we were not successful, so active breeding in "BarberStreet 23" was closed for quite a long time.
Not to be bored, we used time to time our contacts and relations to manage some international exchanges of Irish terriers, e.g. Pride Uelis van Koudenhoven to kennel "Uelis" (Uelis Akill went to Netherlands) and our last acquisition is Spitfire van Koudenhoven aka Speedy for kennel "Z Perslu" (exchanged for Give z Perslu).
But every time-out has the end. We agreed with Peter Jaspers, that the
BarberStreet 23
restart will be done by "Erin" aka
Upgrade van Koudenhoven
(
Give z Perslu
x
Summerbreeze van Koudenhoven
). Quite symbolic I think. Upgrade is nice name for restart
, and Erin's parents/ancestors (Give and grand-grand-daughter of Byron I ) mean a lot for me. She was chosen as a best female of very quality litter so, as far as I know Peter, she had the best chance to be excellent Irish with typical daredevill character. OK all this are only toughts and hopes but we are looking forward anyway.